A

STRO

G

ALLERY

Please find below a small selection of items from my collection which are currently available for sale.

If you are interested in buying any of these items or just have questions, please send me an e-mail



Ultra-rare vintage 2TV-1 patch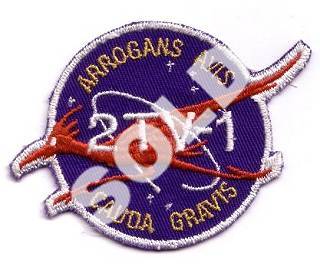 This is a beautiful example of the ultra-rare 2TV-1 patch, produced at the time of the 2TV-1 manned thermal vacuum chamber test of the Apollo Block II Command and Service Module, performed in June 1968.
Although the crew of the manned test wore a beta cloth version of the mission insignia during the tests themselves (due to flammability concerns), a limited number of embroidered patches were produced and presented to some key NASA and North American Rockwell staff working on the project, as noted on the accompanying presentation certificate.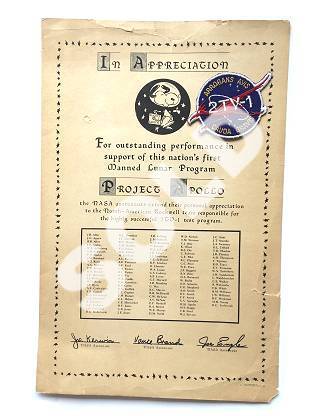 I've not seen an example of this patch sold in nearly 7 years. This particular patch is the master reference example used to illustrate the 2TV-1 patch on my Crew Patches site.
The patch measures 3" across the body and is in v. fine condition.
The certificate measures approx. 11 x 17" and shows its 50 years of age, being in fair condition at best, with significant overall age toning and assorted creases and tears (see photo above).
SOLD
Soviet Shuttle Buran
Thermal Protection System Tile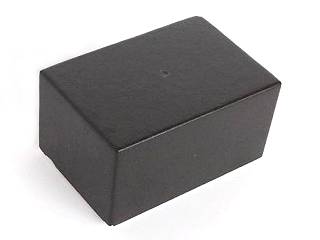 This is a nice example of an original thermal protection system tile from the Soviet Buran space shuttle, designed to protect it from the 1,500 degree heat of atmospheric re-entry.
Originally acquired from an Aurora Space Auction in 2003, the tile was listed as flown at the time but was more likely removed from an unfinished orbiter.
This is a very clean example with just a small shallow dent to the top face and a chip to one corner.
The tile meaures roughly 11.5 x 7.5 x 6cm (4½ x 3 x 2¼").
$159 -> $149
Postage at cost : Europe $15 ; USA & worldwide $30
Cutler Hammer Lever-Lock Switch

as used in Space Shuttle simulator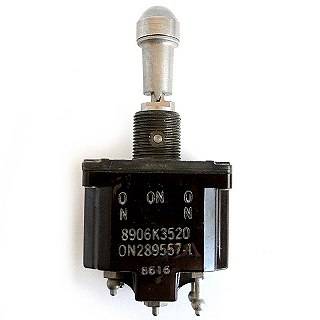 This NASA-surplus hermetically-sealed three-position lever-lock switch by Cutler Hammer is of the kind used in the Space Shuttle simulators.
The switch is marked on the top CH (Cutler Hammer) USA, and on the side : 8906K3520 ON289557-1 8616.
In fine overall condition with some light soiling.
$175
Postage at cost : Europe $15 ; USA & worldwide $30
Ultra-rare vintage Gemini 9 patch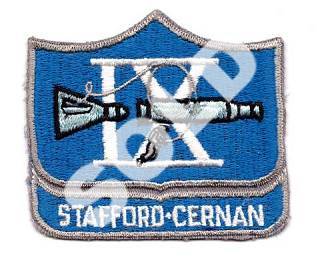 This is a beautiful example of the ultra-rare vintage Gemini 9 patch identified on my CrewPatches website as GT9UNK2.
The design is extremely close to that of the version worn by the crew with just a few subtle differences in the execution.
I've only seen 3 examples of this patch sold since it was first identified 9 years ago, and none sold in the last 7 years.
Measures 4" (100mm) across. Near mint condition.
SOLD
Gemini 9 "Spacewalk from Hell"
Gene Cernan signed 11x14" photo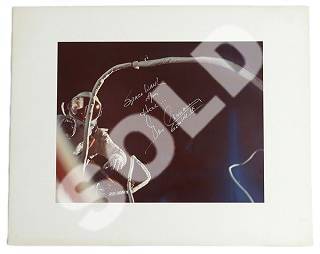 This is an exceptional oversized photo of Gene Cernan's Gemini 9 space walk beautifully signed and inscribed "Space Walk from Hell" in silver ink.
This was from Gene Cernan's personal collection, sold via Novaspace in 2003. The appearance of the mount and photo is consistent with it having been produced at the time of the Gemini and Apollo missions rather than being a later print, although the inscription and signature may have been added by Cernan in 2003.
The photo itself measures roughly 14x11" and is mounted to a 16x20" mat. The reverse of the mat has the original photo reference (S66-38515) as well as some identifying labels from Cernan's "garage sale". The photo is in very fine condition. The mat is very slightly age toned on the front with a few minor surface marks. The reverse of the mat shows more age toning and assorted surface marks.
Cernan produced similarly signed and inscribed 8x10" modern versions of this photo for Astronaut Central in later years. These are currently offered on their website at $640.
SOLD